Motion Capture Suits
Gypsy 7™ Motion Capture System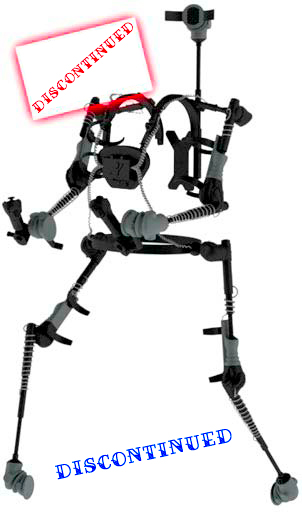 The G7 is the latest incarnation of Animazoo's state of the art exo-skeletal gyroscopic hybrid technology coupled with its robust unified motion capture software suite (version 10).
In addition to providing standard BVH output, G7 provides 18 new control triggers (buttons and thumbsticks) that add triggering capabilities which can be captured as well as two rumble motors for feedback. This provides for unprecedented event control.
This new Extended Event Control (EEC) will prove indispensable for real-time animation, online streaming, bio-mechanical, robotics, medical and computer game development applications.
Animation
BVH data from the G7 can be imported into MotionBuilder, 3DS, Maya, XSI, Lightwave and others with real-time drivers for MotionBuilder to enable easy teachning of pre-viz pipelines.
Engineering
The Animazoo SDK allows seamless integration with custom made software. Use G7 switches to augment collected research data for biomechanics, robotics, internet streaming and simulation.
Game Development
Create in-game animations for ordinary games or create a mocap game for the upcoming eMove Mocapsuit launching mid 2011. Developer kit comes with real-time drivers for Panda 3D, Unity and Unreal 3D game engines. Also ideal forinternet streaming and simulation.
Mature, Robust, Comprehensive Software Suite
The latest v10 software for G7 is now the same across all our high end professional systems.

Software Modules Include:

AutoCal: drag-n-drop markers onto a photo of the actor to create a correct stick figure for the actor.
On-line streaming: watch what the suit's doing in real-time, thousands of miles away.
Multi actor syncing: see up to 4 systems interact in real-time during capture.
Skeleton Joint outer parameter simulation system: making better sense of the skeleton during shoots.
Key Frame Editor: data cleaning software specially made for G7.
Dynamic Capture: enables altering of the actor's skeleton after the mocap data has been recorded.
GYPSY 7 Features:
Joint Sensors:
14 joint sensors
Accuracy (0.125 degrees resolution)
Independent digital processing at every joint
No data noise
No data disruption and dropped fames
Factory calibrated joint sensors

System:
Unlimited capture area
No cameras so every limb always detected
No swapping or disappearing markers
USB powered - no batteries needed
No scientist needed to operate
4 Kg (9 lbs.)

Joystick features:
Integrated rumble motor
5-way analog thumb-stick
3 buttons & trigger
18 joystick controls
Software:
Internet streaming software
30, 60 or 120 Frames per second
No-lag real-time viewing
On the fly software calibration
Inertial mocap data cleaning software included